Among the many photographs from my mother's side of the family are a few negatives, including two of glass. A quick Google search and I found this website. Apparently, there are two principal kinds of glass plate negatives: Collodion Wet Plate and Gelatine Dry Plate. I'm almost certain the negatives are Silver Gelatine Dry Plate Negatives, invented by Dr Richard Maddox and in common use between the 1880s and the late 1920s. Naturally, as I am no expert, I could also be wrong.
One of the glass negatives is of the Empress Alexandra of Russia. It appears to be in reasonably good condition. It is definitely a posed photograph taken by a professional photographer. She is dressed in what looks like a formal white gown, wearing a jeweled tiara and what could be a pearl necklace. There are bracelets on her wrist and earrings in her ears. She appears to be standing next to a vase of flowers and greenery. Perhaps she is meant to be arranging them. Her signature is written across the bottom of the image. I think the negative must have come from a photograph of a postcard with the same image, although I cannot be certain. The photograph is featured in my grandmother's book "Upheaval", published in 1932.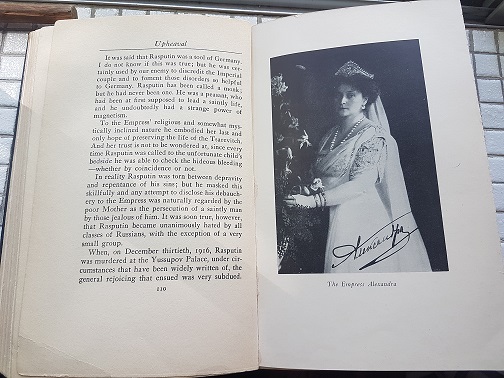 The other glass negative shows my grandmother's brother and sister, my great aunt and uncle, in traditional Russian dress, performing a Russian dance. It can also be found in my grandmother's book.
What I don't know, and what I hope to one day find out, is when the photograph of the Empress Alexandra was taken. Did someone photograph a postcard and then create the glass negative? Or is it really a negative taken directly from an original photograph? Was it taken before my grandparents fled Russia during the Revolution? Or was it taken later, when they were in America? If it was taken in Russia, how did my grandparents manage to get the negative out of the country when they took so few belongings with them?
It is also possible the publishers photographed a postcard using a glass negative so they could include the image in my grandmother's book. But is that likely if the book was published in 1932 and glass negatives were only in use up until the late 1920s?
When she died, my grandmother left a collection of hundreds of postcards, mostly of Tsar Nicholas II and his family. They are both in black and white and in colour. My mother kept this collection, the majority of them in photo albums, but some also stored loosely in boxes and in plastic folders. Luckily most of them have survived well over the years. A few of them look to be original, some must be prints of originals. Now and again I have attempted to discover more about individual postcards, but I look forward to the day I can spend more time researching them. Until then both the postcards and the glass negatives remain neatly stored in my home.