In this picture my maternal grandfather, Pavel Voronov (Paul Woronoff), is 13 years old. He is a naval cadet in Russia.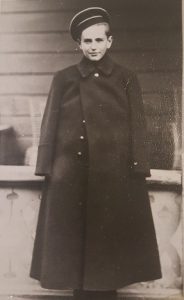 Years later he would be an officer on Tsar Nicholas II's imperial yacht, Standart and the love interest of Grand Duchess Olga, eldest daughter of the Tsar.
I know very little about my grandfather. The documents I have of my mother's family are in Russian and therefore incomprehensible to me. I know my grandfather was born in Kostroma, Russia and that he had at least one sister, Natasha. I have photos of his parents but none of him as a child, except the one above.
I know my grandfather joined the navy and, after graduating as a naval cadet, served on the cruiser Admiral Makarov. The Admiral Makarov was moored in the port of Messina, Italy when a powerful earthquake hit Sicily on December 15, 1908.The sailors on board the Admiral Makarov, including my grandfather, immediately went to the rescue and saved many of those affected. I've read that tens of thousands of Messina's inhabitants were buried under rubble. Apparently, it was the bravery of my grandfather which caught the eye of the Tsar and had him promoted to Lieutenant on the Standart.
According to my grandmother's book Upheaval, my grandparents first met at a dance given by Princess Bariatinsky. It is here in her book she tells of the legend attached to my grandfather's name. "Voron" means raven in Russian; it was a nickname given in the fifteenth century to three brothers, Tartar princes, who settled along the Volga after the great Tartar invasion. It was said of these brothers that they "flew on their prey like ravens!" In time, this nickname became their Russian name and whatever was their Tartar name was never used by them again.
The young officer Pavel was to meet Olga Kleinmichel again at many parties and dances. By that time the Grand Duchess Olga had developed a crush on Pavel, writing in her diary about the times they saw each other. It is possible her affection for Pavel was noted by her parents, Nicholas and Alexandra. But it is only conjecture that the Tsar and Empress arranged the marriage between my grandparents as a way of ceasing the feelings their daughter had for Pavel. We will never know.
None of this romantic story was made known to me as I was growing up. I only knew my grandfather as a kind, loving grandfather who would always take the time to play with me. He died of stomach cancer when I was nine. Nearly fifty years later I still miss him.