Is there anything more frustrating than inheriting a lot of family photographs which are not identifiable? I almost think it is worse to have photographs which only have one word on the back – and especially when that word is illegible.
Such is the case with the photograph above. On the back of the photograph is one word, written in pencil, which might be "Mama". Or it might not be.
The photograph was in the envelope I keep for random Fircks photographs – my father's side of the family. Which does not necessarily mean that it belongs to my Fircks ancestors. It might have been put into that envelope by mistake. Or the photograph might be of a random relation of the Fircks family. If one of my cousins reads this, perhaps they might know.
If the lady in the photograph is indeed "Mama" it is likely to be my grandmother, Baroness Sophie Elisabeth Marie von Fircks – who was always known as Marie to her family and friends. Her maiden name was Hohenastenberg gen. Wigandt and she was born on 21 September 1881 in Dursuppen, Latvia.
On the 20 November 1912 Marie married Peter Julius Otto von Fircks in Mitau, Latvia (now known as Jelgava). Their youngest child was my father.
Below is another of the few images that I have of my grandmother Marie. It is a group photo of Marie (on the left) and her siblings. It was taken in 1912 but I do not know if it was taken before or after the wedding and the place it was taken is illegible. At least this photograph is dated! There are similarities between the two images, but I am not an expert on identifying old photographs, so I could not guarantee they are of the same woman. However, in both photographs the women are wearing high collars. Perhaps that is a clue.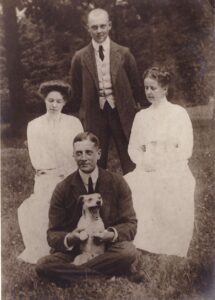 One of the ways to identify old photographs is to look at the clothes the subject is wearing and compare them to period fashions. This is not as easy as it sounds. However, after Googling images of hats with feathers in the late 1800s and early 1900's, and matching those images with images of jackets and coats from the same time, I believe I have narrowed it down to the early 1900s. As an aside, some of the hats with feathers from that time looked like the feathers were actually whole birds!!!
If nothing else, attempting to identify old family photographs is a reminder that I need to sort through and identify the ones I know before my sons inherit them…