It is apparently common knowledge that Empress Alexandra of Russia believed the swastika to be lucky. However, I didn't know that until I began to look through old French magazines which I inherited. It makes sense though as, according to my grandmother Olga Woronoff, the Empress was deeply
religious but also inclined to the mystical.
From ancient motif and good luck charm to the most hated symbol of the modern world, the swastika has certainly had an interesting history. According to an article from the BBC about the swastika, examples have been found in archaeological discoveries throughout Europe, despite the belief
that it originated in India. Evidently the National Museum of the History of Ukraine in Kiev has a number of exhibits of archaeological finds showing ancient swastika motifs.
Speaking of ancient, the magazines I inherited date back to 1920 and 1921. I have three copies of the magazine L'Illustration, which was started in 1843 and was the first French illustrated newspaper. My maternal grandparents, Paul and Olga Woronoff, escaped from Russia to France in early 1920. The three magazines I have must have belonged to them. What a journey these magazines have made over the last hundred or so years.
All three of the magazines are fragile. To be honest, I am surprised they are not more tattered and torn. The one I'm looking through, dated 18 December 1920, is in slightly better condition, although still
delicate. It is a strange feeling to know I am holding something which was created over a hundred years ago. I wish my French was better!
This copy of the magazine includes a drawing by Empress Alexandra of a swastika (see below), and mentions that she thought of it as lucky.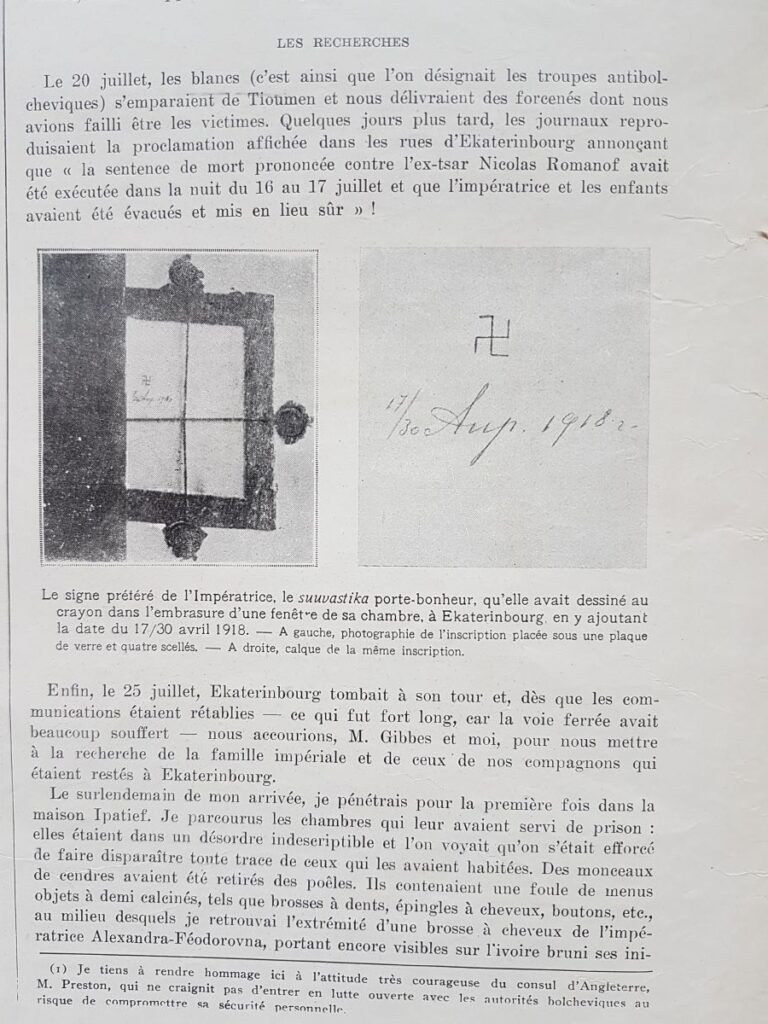 I believe my grandparents bought this magazine because of the article in it written by Pierre Gilliard, French language tutor to the children of Empress Alexandra and Tsar Nicholas II of Russia. With my very poor knowledge of French, it appears this article is about the murder of the Imperial Family in Ekaterinburg. My grandparents were close to the last Tsar and his family (I have written about their friendship in previous blog posts) and I know they were devastated to learn of their deaths. I also know my grandmother met Gillard in France, where she heard his story of the last days of the Imperial Family.
I am fortunate to have these magazines, to be able to hold history in my hands. And especially fortunate to know that the history I hold is connected to my family's history.