Once again I find myself with a conundrum, and once again it has to do with something I have inherited, a book so fragile it is already falling apart.
In 1921 Tatiana Melnik, neé Botkin, published a book about her memories of the Russian Imperial Family and members of the Court, before and after the Russian Revolution. The English translation of the title of the book is Reminiscences of the Royal Family and Life before and after the Revolution. Inside the book, as well as an image or two, there are copies of correspondence between members of the Imperial Family and Botkin – see below.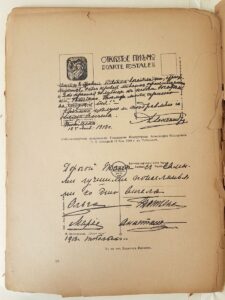 Tatiana Botkin was the daughter of the Russian Imperial Family's doctor, Yevgeny Botkin. When her father followed the Tsar and his family into exile, Tatiana and her brother, Gleb, followed him. However, when the Imperial Family were sent from Tobolsk to Ekaterinburg, Tatiana and her brother were refused permission to stay with their father. Dr Botkin was eventually murdered alongside the Imperial Family. In the same year Tatiana married an officer of the Ukrainian Rifles, and they escaped Russia, eventually settling in France.
The copy of Botkin's book, which I discovered in what is left of my grandmother's possessions, is in such bad condition that it has literally fallen apart. I wonder how she came to own the book and whether she ever met Botkin after the Revolution.The pages are so fragile they crumble almost as soon as you touch them. There is no longer any binding. Someone, perhaps my mother, stored the book in a manila folder, where it will continue to live until I decide what to do with it.
And that is my conundrum – what do I do with a book which can barely be read because of the condition it is in? I doubt it is worth anything in a monetary sense, after all who would want a book which is this delicate? I do not think I could even give it away. Being in Russian, I cannot read it. I also cannot make out the signature on the title page. For a moment I thought it was my grandmother's – O. Voronova – but the first letter of the surname is not (to my knowledge) the Russian "V". I know that, when I eventually die, my sons will most likely throw it away. So, what do I do with it?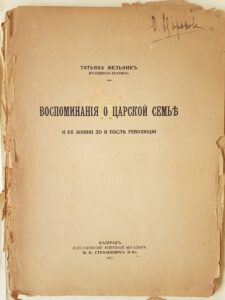 I am torn (much like the book) because on the one hand I want to keep it "just in case" and, on the other hand, I can see there is probably no sense in hanging on to it. Does it give me joy to hold it, as per the method of tidying and clearing recommended by Marie Kondo? No, not really. But it does give me a sense of history.
What would you do with this book? Have you ever inherited something so old and fragile that it really makes no sense to keep it, yet you hesitate to throw it out?