This week I thought I would continue to write about unidentified photos – this time from the maternal side of my family. But perhaps someone reading this post will be able to give me a clue by looking at their uniforms. I am no expert at uniforms but I am sure someone out there is.
All I can tell you about these men is that the photos were all in the same photo album. It is an album which was put together either by my maternal grandfather's sister (so my great aunt) or perhaps her daughter, my grandfather's niece. She was my mother's cousin, does that make her my second cousin??? I always get confused. So, the Voronov / Woronoff side of the family. Although some of the photos could be of the Shulkevitch family – my great aunt's married name. According to a note in the album, the photos were all taken in Russia and China. During the Russian Civil War my grandfather's sister and her family escaped to Harbin in China, so that makes sense. However two of the photos have dates in the early 1900s written on them, so I assume they were taken in Russia.
The first photo (above) does have some writing on the back – but it is in Russian and in a handwriting I cannot easily read. As far as I can make out there is perhaps a name, followed by "brother of grandfather" and dated 1906. Now here comes the tricky part. My great aunt's grandfathers on the Voronov side were brothers – yes her father (who was obviously also my grandfather's father) married his cousin. So, does that mean the man in the photo was Nikolai Voronov – the only other brother?
However, as the photo was taken in 1906, perhaps it was my grandfather's niece who wrote on it, which would give us the pick of four brothers – Peter, Alexander, Nicholas, Konstantin or Vladimir. I cannot decipher the writing, nor can I even make an educated guess.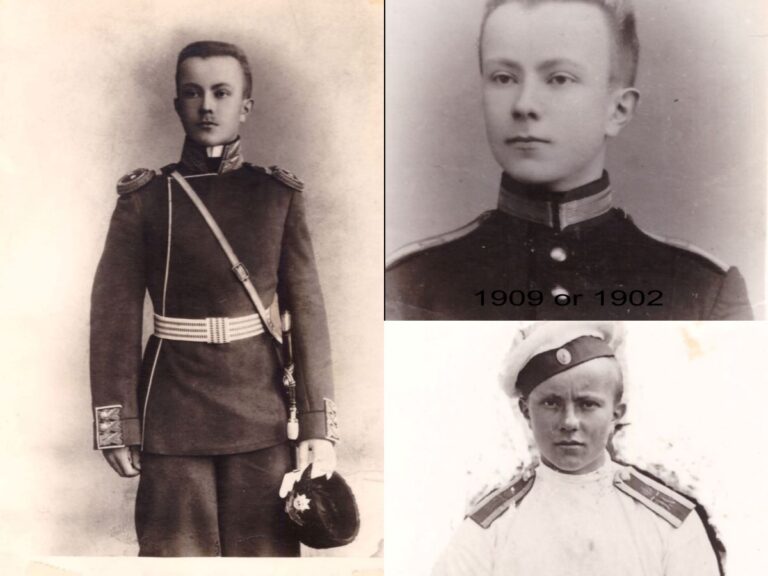 The next three photos are total unknowns. Only one has any writing on the back, again I cannot decipher it but the date is 1909, or perhaps 1902…
Unfortunately I do not believe there is anyone still alive who can identify these photos for me, although I do know some people who could probably read the writing.
It is frustrating to have albums of family photos which are unidentified. But it also makes me wonder how, in this digital age, do we identify all the photos we take? Will my boys end up with thousands of unidentified photos on my phone and computer when I die? Let's face it, will they really have the patience to sort through all the random photos of plants, cityscapes, food etc in the hope of finding one or two which are relevant? And I do not take as many photos as other people I know.
What are your thoughts?