I fly out tomorrow night, destination London for a couple of days before heading to Germany to attend my father's family's 2019 reunion. Every two years the Fircks family meet somewhere in Europe. They catch up on family gossip, tour the local area, eat, drink and talk about all things Fircks. This year we are meeting in Wiehl, Germany. It looks very pretty in the photo I found on Wikipedia.
From my very poor translation of German, it seems as if the Fircks family originated with Gerhard v Ferckis in 1306. Gerhard was from northern Germany and was possibly a part of the Livonian Crusade – a pope sanctioned conquest of territory in what is now known as Latvia and Estonia. From him quite a large family has grown, spanning centuries and nowadays living around the world. One of my cousins has compiled various family trees and written several family histories, one of which is pictured here.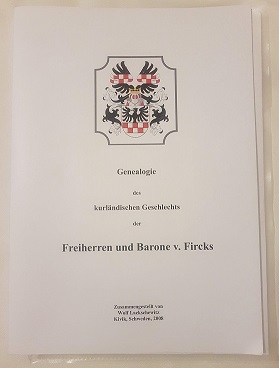 I love going to our family reunions, and I also dread attending. I love them because it hasn't been that many years since I discovered this extended family. I always wanted a big family and finally I've found one. They are all such interesting people. I dread it because of the language barrier. My German is not fantastic. I can understand slightly more than I can speak but I struggle.
If there is anything I find it difficult to forgive my parents for, it is that neither of them taught me their native language. My father never spoke to me in German and my mother only rarely spoke to me in Russian, giving up when I became a teenager. I grew up in an English speaking household. If only they had brought me up to be multi-lingual, things might have been very different. At the very least I would now be able to read the many documents I brought with me after clearing out my parent's house after their deaths.
Of course, I'm not the only English speaker at the family reunions. There are my cousins from England, Ireland and Sweden who also speak English, although some of them also have a good understanding of German. The Swedes naturally also speak Swedish but no German. And the rest of the family are very kind, constantly translating for us. But I wish they didn't have to.
I am trying to learn more German. I have two German conversation partners and I meet with each of them, in person or over Skype, once a week for about an hour. Half the time we speak in German and half the time in English. I find it valuable. I just wish my brain would retain all I learn each week.
After Germany, I plan to travel around the UK. My next blog posts will hopefully reflect my travels. Until then – auf wiedersehen!