This week I began to sort through the numerous photo albums which I inherited. My parents and grandparents, and no doubt other relatives, were very vague with their inscriptions on the photos, if they wrote anything at all. Some are inscribed with random names like "Helen", or with simply a surname. There are a few with dates but even then it might just be the year, or the day and month without the year. Sometimes I cannot even read the writing or make out what language it is in!
I came across these sort of problems when I found photos of my mother's godfather and his wife. My mother had written on the back of a couple of the photos – "My godfather" and "My godfather's wife" but she had not written their names! Luckily I discovered another photo of them where my grandmother had written my mother's godfather's name and the maiden name of his wife. Unfortunately, I could barely decipher his surname and cannot at all decipher the name of his wife, even with a magnifying glass! My grandmother had also noted that he was my mother's "great uncle". So, that would be a brother of one of my mother's grandparents.
It took many hours of researching to turn up very little information. This is what I found.
Nikolay Arkadyevich Petrov- Chernyshin was born on 13 March 1860 and died on1 December 1944. He was a Rear admiral from 6 December 1911 and was made a Vice admiral from 1917. In 1908 he commanded the Russian cruiser Bogatyr and in 1916 he was Chief of Staff of the Sevastopol Port. He was exiled in France – presumably during or after the Russian Civil War. I also found a short mention of him, along with others, accompanying Grand Duchess Victoria Feodorovna (wife of Grand Duke Kirill Vladimirovich) to the United States in November 1924, where she was raising funds to assist Russian refugees.
That is all I was able to find on Google and the Russian Google. No mention of a wife, whose name was Helen, or Nelly. No indication of how he could be related to any of my mother's grandparents. Perhaps the title "great uncle" was purely honorary.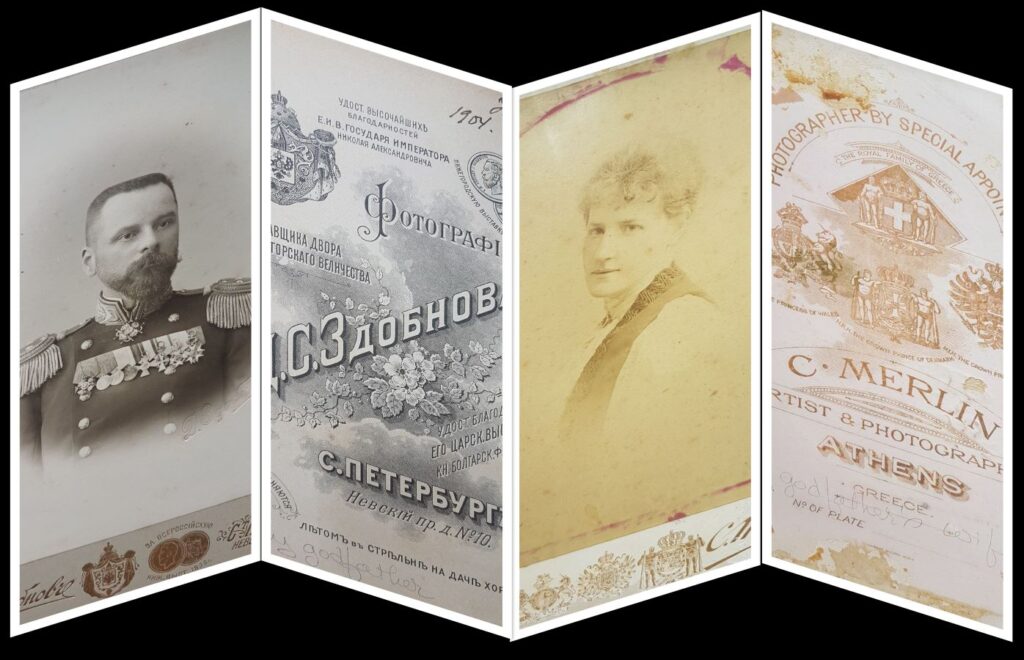 The photographs themselves were professionally done. The ones of Nikolay on his own and together with his wife were obviously taken at the same time, in St Petersburg, while the one of his wife alone was apparently taken in Athens.
The St Petersburg photos were taken at the D.S Zbodnov photography studio and, if my Russian translation is correct, this studio has the right to call itself a photographer with the approval of his Imperial Highness Nicholas Alexandrovitch. I am sure my Russian friends will correct me if I am wrong! The photographer in Athens, C. Merlin, also appears to have royal approval.
It looks like I will have to do some more research into my mother's godfather to find out where he fits with our family.