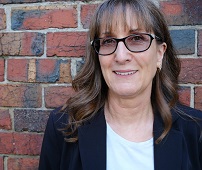 Alex de Fircks is a writer of memoir and short stories and fiction. She blogs about family, moments in time, memories and travel. Alex is passionate about research, history, genealogy and family stories. She also loves studying and has a Graduate Diploma in Arts & Entertainment Management, a BA (Hons) in Arts & Social Sciences and a Diploma of Family History. This year she has started another BA, majoring in Russian Studies with a minor in Modern History.
Alex's paternal family were Baltic Germans whose family line can be traced at least to 1450. Much of the information on her paternal line is in German. Alex has enough knowledge of German to make herself understood, but translating documents is not that easy!
Alex's maternal family were from Russia. Her grandparents escaped Russia during the Revolution. She is still researching the family tree but believes it can be traced back at least to the 1400s if not further. Many of the documents she has are in Russian and must be translated in order to learn more about her family.
Alex has three sons and two grandsons. She has extended family all over the world. She enjoys spending time with her family and travelling – especially through Europe.
Get in touch with Alex: